I'm the first to admit to being a little late to the party when it comes to beauty treatments and self pampering. I didn't have my first manicure until years after they were a weekly ritual for my other friends. I rarely get facials, don't own foundation, and can't apply eye shadow without looking like an escapee from the clown car at the circus, I don have one major beauty obsession though – eyebrows.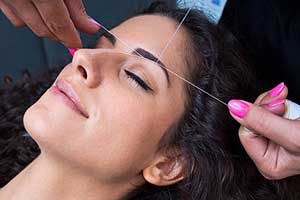 I've been trying to achieve perfectly shaped brows for as long as I can remember. I have no qualms about stopping complete strangers on the street to ask where they get their eyebrows done if I like the look of their arches, if someone does the same to me. It makes my week. My friends are accustomed to being greeted with, Good brows, Where'd you get them done?" A couple of years ago when I asked one friend where she had gotten her perfectly arched brows shaped, she said she had them threaded the previous week while back home in Pakistan. I was a little disappointed (I'm eyebrow obsessed, but not on the order of flying to Pakistan), but also intrigued. I knew that threading was a from o hair removal, but that was about it. I did some investigating and have been a threading believer ever since.
Threading, the ancient method of hair removal which South Asian women have been doing for centuries, is no longer the exclusive domain of Indian women and Bollywood beauties like Aishwarya Rai.Threading services are beginning to proliferate in the west, and women are taking note. Celebrities such as Selma Hayek and Liz Hurley are said to be converts to this ancient art. Why? Because clients and practitioners alike swear by threadings accuracy-single hairs can be removed at a time, causing it to be more precise than waxing. It can also pick up the very fine hairs that tweezers miss, and has no trouble catching hairs that are too short for waxing.
The process: the practitioner uses a loop of tightly twisted cotton thread to remove unwanted hair. The threader usually holds one end of the thread in one hand, the other end in her teeth. With her free hand, she forms a loop in the middle of the thread. Twisting and rolling this loop over an area of skin catches hairs and removes them from the root. Threading can be done on any part of the body, but is used primarily on the face to shape eyebrows and remove any other unwanted hair.
The first time I had my own eyebrows threaded, I was petrified. I didn't have a chance to do my usual art directing of how I wanted my brows to look before the practitioner came at me with a long piece of thread gripped between her teeth. Though I didn't feel much except the thread being pulled across my skin, I had visions that alternated between my leaving the salon with one eyebrow and my leaving with no eyebrows. I needn't have worried. After about 15 minutes under the string, my brows were neat and clean, with none of the redness usually left by waxing. Seema Patel, owner of Shanti Medspa in Ardmore outside of Philadelphia Pennsylvania, says that with threading, there is much less redness, and any that does occur is usually gone in fifteen or twenty minutes"
That, as explained by Dr Patel is because "threading does not involve the epidermis, unlike waxing which can rip or injure the epidermis and cause irritation.
Since threading pulls only at the hair, and not the skin, it is much gentler than waxing and therefore ideal for anyone with sensitive skin because of topical skincare agents like Retin A or Accutane, since their skin is more susceptible to irritation while they are on the medication. Threading is also a good option for women with darker skin, who may be prone to hyperpigmentation, or darkening of the skin
Dr Patel a recognized expert in advanced skincare has a special interest in treating ethnic skin. She prefers threading for her patients with brown skin tones that are prone to hyperpigmentation since foregoing the heat and skin loss associated with waxing means eliminating the skin discoloration that they might cause.
So with threading becoming more popular and salons that offer it beginning to pop up everywhere, how to pick one? Dr Patel advises that when looking for a place, clients should make sure that the practitioner not only knows how to define a nice eyebrow shape, but also doesn't too fast. She also suggests that cleanliness be a priority. " I have heard some horror stories from clients and so I just encourage people to insist upon good hygiene" There is a certain karma that goes with this ancient technique and that can only be enhanced by an appropriately soothing atmosphere.