When it comes to makeup, eyeshadow is perhaps the trickiest product to apply. This is because the eyes have no real limitations. According to the makeup experts, each shape you create using eyeshadows can take you to different realms. Indeed, it was black kohl that transformed Elizabeth Taylor into Cleopatra and Audrey Hepburn into Holly Golightly. Eyeshadows do not only make your eyes look bigger, they can also add drama and draw attention to your eyes. However, it is one of the trickiest makeup products to apply, which explains why women do not wear it as often as lipstick. Drawing a perfect shade may often take some practice, but with a few expert tips and techniques, you can do it in no time.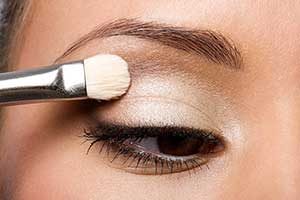 1. Select the correct eyeshadow form
Eyeshadow comes in several formulations, each with a unique finish and level of difficulty. Matte eyeshadows blend easily and are perfect for beginners, as they can be both used for creating a soft daytime look or a heavy smoky eye. If you are not so much into eyeliners, you can opt for powder eyeshadows that can also be used as eyeliner, as long as the color is densely pigmented. Used in tandem with a fine-tipped brush, powder eyeshadow gives the softest, most natural look.
2. Getting the natural look
For soft definition, choose a powder matte eyeshadow. Choose those that are neutral in colors because these are the finest for all eye colors. The best neutral colors to choose are taupe, beige, muted wines, ivory, charcoal, browns, and grays. It is best to choose a medium eyeshadow. These types of eyeshadows are light enough, hence they do not need massive blending. For those who have dark eye colors, browns are the best shades to use in order to bring out the eye color, making it more intensified and defined.
3. Consider your color options
The safest way to go is with brown or black, but new options include other colors such as gray, charcoal, metallics, or even bright dashes of color like green, blue, or turquoise, as seen on the usual summer collections. Smoke or charcoal gives a softer look than black does. Dark green shades goes well with almost all complexions. For those who have complexions with narrower eyes, metallic shades are the best. When applied on the eyes, a metallic shade like silver or gold can make the eyes look bigger and more wide-awake. You can contrast this with a different shade of eyeshadow like green with bronze, silver with white, or go monochromatic by using lighter tones of the same color family as your eyeliner.
4. The skin tone test
When choosing the best eyeshadow, it is best if you consider your skin tone first. Usually, there are eyeshadows that do not blend well with one's skin complexion. Hence, it is important to consider them when choosing eyeshadows.
For example, women who have dark skin complexions, it would be better if you choose darker shades of eye shadows. Choosing lighter shades like pebbles would only make your eyes look dusty.
5. The rule of thumb
Before you buy your eyeshadows, it is best to remember that dark colors tend to make the eyes appear to diminish in size. On the other hand, light colors bring your eyes out into the open. The rule of thumb when choosing the best shades of eyeshadow is to select those that will bring definition into your eyes. In reality, eyeshadows are made to re-shape the eyes or any part that surrounds it like the browbone section and the eyelids.
6. High definition
It is best to smudge a soft brown eyeshadow on the lid for a wide-eyed look. If you want more intensity, smudge the eyes with darker shades starting from the center of the lid then outwards to make eyes look bigger.
7. Limit the colors
When choosing eyeshadows, it is best not buy too many shades, even if they are just neutral colors. Using them all together will be very distracting. Best of all, do not buy eyeshadows that will draw too much attention to your makeup as well as your lids. In the end, your eyes will be taken for granted. Therefore, it is better to not choose shades of pastel colors and those that are frosted. Indeed, choosing the best shades for your eyes can be very tedious and needs more practice but in time, you will soon be expert on it. In the end, projection high-definition eyes will be a breeze.