So you've probably seen this trend in eyeshadow technique everywhere, which helps to make your eyes look bigger and brighter…and well, simply amazing. It's not a new technique at all, having first made it's appearance in the early 1920's and 30's, but has risen to new popularity in recent years (thanks in part to the Kardashians!).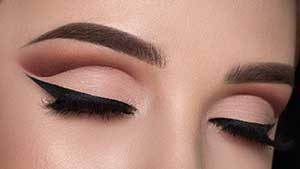 The cut-crease was used in early black and white/silent movies to draw attention to the eyes of actresses. The modern day cut-crease is less softer, and is more about creating a dramatic effect and defining the eye socket. The name cut-creasing stems from the basic technique of applying a lighter shade of eyeshadow all over your lid and then adding a darker shade of eyeshadow on top of your lid crease.
Here's a step-by-step breakdown of how to achieve a cut-crease (note: there are different styles, and different ways of achieving those styles, but this is the basics):
Apply primer to your entire lid. Cut creasing doesn't work if your eyeshadow blends into each other.
Next, apply a light shade of eyeshadow over your whole lid. This will highlight the whole area, all the way up to your brow.
Use a dark eyeliner to sketch a V-shape. Start from the crease in the middle of your eye and connect to the outer corner of your eye. Use less pressure in the middle of your lid and make the line thicker toward the outer corner.
Next, use an eyeshadow brush to blend the line you've just drawn outwards to the outer corner of your eye. If you can, try to keep the bottom of your cut crease a sharp line.
Using the top line of your eyeliner as a guide, apply your eyeshadow over the line and slightly blend above. You can also correct any mistakes with white eyeshadow.
Add definition to your lash line with eyeliner. It's up to you whether you use kohl or liquid, but liquid works better.
Starting from the inner corner of your eyes, draw a line that wings outwards.
Brush the same eyeshadow you used above your cut crease, along your bottom lash line.
And there you have it…an amazing looking cut-crease. Now you can add false lashes or lash curling to accentuate the look.