Invented in 1930 by Hollywood make-up artist Max Factor, lip gloss is one of today's best-selling cosmetic items for women. Light pink lip gloss has been a staple in every woman's makeup collection for decades. The lustrous finish and subtle hint of color that lighter glosses give to the lips have made it one of the most coveted and essential beauty products of our time.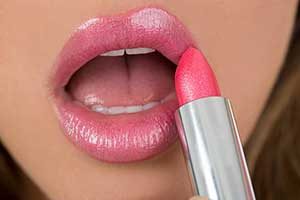 The most popular shades of gloss are in the pale pink family. Women love pink lip color! A light pink shade can be universally flattering.The range of pink lip color tones available from today's cosmetic companies make it easier for any woman to find the shade of pink that flatters her complexion in the most attractive way.
Why Does Light Pink Lip Gloss Have Such Appeal?
Women who love lip gloss always look for that one sheer low-maintenance formula they can apply quickly and easily. Dark lip shades are not as low maintenance, so light colors are chosen for their simplicity of application. Here are several reasons why light pink lip gloss is such a winner at the cosmetic counter:
– It provides a fast, fuss-free application compared to darker shades
– Pink lip color signifies youth and innocence
– Wearing pink makes a woman feel feminine and pretty
– It gives a youthful appearance to the face and works as an everyday wearable color
There is a Gloss Formulation Suitable for Every Woman
– Sheer– Sheer lip formulas are favored by women who want the most fuss-free application and subtle appearance of product on their lips. The sheer formulas can include lip balms, juicy tubes, and clear lanolin-based moisturizers for the lips.
– Opaque-These formulations contain a greater amount of color pigmentation; like applying a melted lipstick to the lips. Women choose opaque formulas for the full-color effect combined with the allure of a glossy finish.
– Shimmer-Soft shimmer formulas add beautiful sparkle and dimension to the look of the mouth. The light catches on these shimmer particles and draws attention to the lips. Shimmer formulas never scream for attention. They speak softly in a come-hither way. Very seductive!
– Metallic-Strong metallic lip color is for drama and sexiness. Metallic lips are hard to ignore and many women use metallic lip formulas for that fabulous femme fatale look.
The Benefits of Using Lip Gloss
Not only do women use gloss as a beauty-enhancer, there are other benefits as well.
– Moisture– The biggest benefit to wearing gloss on the lips is for the moisture content it provides. Nothing feels worse than dry, chapped lips. Gloss on the lips feels soothing and comforting.
– Sun protection-Cosmetic companies understand the importance of using sun protection on the face. Many lip products today contain S.P.F. ingredients which protect sensitive lips from sun damage.
– Lip Plumping-These are products that contain special ingredients that cause an expanding effect on the lips. Women with smaller lips love products like these because it gives them the appearance of fuller, sexier lips.
Women Go Gaga For Cosmetic Packaging
Cosmetic companies know how to make women go weak in the knees with fabulous packaging. Lip product packaging has become an art unto itself. There are containers shaped like jewelry, cell phones, cupcakes, fruit pies, and high-heeled shoes.
We can wear lip glosses hanging around our necks as a necklace, or on our wrists as a bracelet. We can spend a dollar at the drugstore for cute plastic packaging, or break the bank buying gold, gemstone encrusted "status" lip products. However you look at it, one thing is for certain; women are crazy about lip gloss!