Eyebrow style began with the ancient Egyptians. They adorned the all seeing eye of their Sun God Ra with a very bushy eyebrow which later went on to be the symbol of Freemasonry. Another eye commonly seen in Egyptian art was the Udjat Eye which had a thinly lined eyebrow. This thin eyebrow became very popular in the 1920's and 30's when Marlene Dietrich and Greta Garbo appeared on the screen with thinly plucked and penciled eyebrows.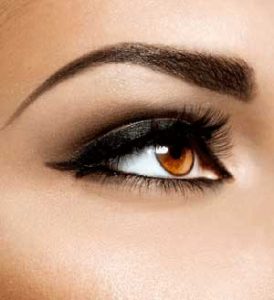 So Why are Women so obsessed with their eyebrows?
Because:
Eyebrows can make the single biggest difference to your facial appearance.
Eyebrows frame your eyes the windows to your soul.
They are a sign of youthfulness.
They are an extremely important beauty feature.
This is why so many women spend so much time in front of the mirror drawing on the perfect eyebrow. Or having their eyebrows shaped and tweezed or waxed.
Do you have sparse thin eyebrows?
If you were young in the 60's or 70's the chances are that you either shaved off or over plucked your eyebrows. It was the fashion trend to shave or tweeze your eyebrows completely then to pencil in rather thick heavy brows using individual strokes to make it look like hair!!! Or to draw in a thin dark line on their overplucked eyebrow arches.
Why was it we did that???
Well for those of us who followed the trend it has meant that we now have very thin sparse eyebrows. Obviously you can have thin eyebrows for any number of reasons as well as the one mentioned above:
You may have a scar or gaps in your eyebrow.
You may have perfect eyebrows but because they are fair no one can see them unless you tint or pencil them in.
You may have Alopecia or have had radiotherapy treatment
Also as you age you tend to loose some of your brow hair and like other hair it turns lighter.
No matter what the reason you will really benefit from Semi Permanent Make up. It can save you hours in the mornings penciling in your eyebrows.Trying to create that perfect natural look, which we rarely get right. One brow is often higher or thicker or longer than the other.
There is no fear of ending up with one eyebrow smudged or removed because you wiped your face. They won't come off when you are swimming or smudge when you are exercising. You don't have to rush to put your make up on before you answer the door when your boyfriend calls unexpectedly. And as some of you have found out you don't have to keep the bedroom in darkness to prevent your partner seeing you without make up.
Because eyebrows give you a youthful look you can actually give your face the appearance of having a face lift just by correctly shaping and raising the arch of your eyebrow or repositioning it slightly. If any of this sounds familiar and you would like to find out more about permanent make up for eyebrows put semi permanent eyebrows into your search engine.